long strength
now browsing by tag
Dr. Schwartz' Exercise Patents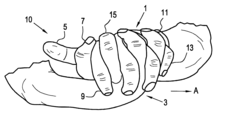 One newly "mined" source of information about Dr. Schwartz' progress in thought regarding Strength Endurance, Panaerobics, Isotonometrics, and Long Strength, and Panaerobics comes from patents filed with the US Patent Office on a variety of topics
Of course, there are the original patents for his "HeavyHands" weights called the "Apparatus for exercising that is used with a hand" or "Aerobic Hand Weights" in the patent filings, but in this blog, the patents of most interest are the ones related to Schwartz' strength endurance methods, a strength endurance exercise device, and even the method of clasping his hands as he performed weight free four limb exercise!
The author continues to discover them and "decipher" them … if the reader knows of others, posting such links in the comments would be greatly appreciated!
"Fitness Method" (Hand Clasps)
This method came to be known as "isotonometrics" as far as this writer can tell. The image at the top of this page comes from this patent filing. It used hand clasps instead of weights to produce a similar effect for anyone who did not care to use weights for whatever reason. Once one sees Dr. Schwartz working out "in place" in this heavyhands video at DailyMotion, it is simple to imagine these or similar movements joined to the hand clasps described in the patent at the link.
Here is how Dr. Schwartz described his method in the patent itself:
A fitness method for an exerciser combines the benefits of isometric-like exercising with isotonic exercising for simultaneous training of the exerciser's cardiovascular and skeletal musculature systems and strength and endurance buildup. The method entails coupling the exerciser's hands together in any one of a number of configurations and generating an isometric-like force during the coupling stage. The coupled hands can then be moved in any number of directions or coupled differently while maintaining or varying the isometric-like force during the movement. In addition, further training can be achieved by moving one or more other body parts during the coupled hand movement. The legs, torso, shoulders, and/or neck can be moved in any number of directions or sequences to exercise different muscle groups in conjunction with the muscle groups being worked by the movement of the coupled hands.
Alternatively, author Marty Gallagher – friend and admirer of Dr. Schwartz – describes his adaptation of the "isotonometrics" principles adapted from Dr. Schwartz' findings in his chapter on "Third Way Cardio" in his book "The Purposeful Primitive".
"Strength Endurance Method"  and
"Strength Endurance Exercise Apparatus"
These related patents describe first the "Method" and then the suggested "Apparatus" for developing "strength endurance" (aka "Long Strength") through the use of four limb bodyweight exercise using the patented device Dr. Schwartz developed.
While thousands of handweights were in production after Dr. Schwartz' book, Schwartz student John McKean said only three of the devices described in the patent were ever made. It was called the "Pan-X" machine.  Once the patent's images are seen, it's obvious that Dr. Schwartz' device would have had strong competition from today's "Suspension Trainers" or "Power Tower" (i.e. dip and pull up station)
Here is how Dr. Schwartz' patent filing represents what he was trying to accomplish:
In an alternative embodiment, the present invention is related to a method of exercising which uses both the arms and legs to perform sustained aerobic and strength conditioning movements…. In a preferred embodiment, the rhythmic bipedal movements includes jogging.The rhythmic bipedal movements can also include scissor kicking in a forward/backward direction or in a sideways direction. Alternatively, the rhythmic bipedal movements includes alternate leg lifting. Preferably, during alternate leg lifting, the user dips on his stationary leg. Leg lifting can include kicking in the forward direction or kicking in the backward direction. In a preferred embodiment, forward kicking includes the step of high knee kicking. Alternatively, alternate leg lifting can beperformed to the side. In another preferred embodiment, the rythmatic bipedal movements includes the step of leaning from side to side…..
Students of Dr. Schwartz will find good information in these patents to help understand his thinking in the development of exercise that did not rely on weights to achieve excellent aerobic and strength gains. While they are not as precise as a book might be, they do spark the imagination and allow the potential user to derive exercise movements from those explicitly listed, or discern underlying principles so that other exercise combinations might be created by the individual user as Dr. Schwartz anticipated.
Enjoy!
Good Morning Dips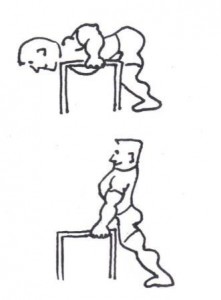 Here's an illustration of the "Good Morning Dip" by John McKean, a student of Dr. Len Schwartz and advocate of "Longstrength" training for weight lifters.
The "Good Morning" is another name for the "forward bend"… like that done when "touching your toes".
A "Dip" is a "pushup" or "press up" on two parallel bars that allow the body to be suspended in mid air and lowered, then raised.
Most of us cannot do the "Dip" exercise aerobically! Even if we could, it would not mean Dr. Schwartz' criteria of engaging multiple muscle groups at the same time to reduce the effort expended by any SINGLE group!
So Dr. Schwartz combined these two exercises into one… so that it would activate the chest, shoulders, arms, and lower back with each of these muscle groups offering support so the movement could be done for a long time!
The exercise is so are… nobody has made a video even!
If dipping bars are not available, people have been known to use home made dipping bars
Home made dipping bars courtesy "Back To Primal"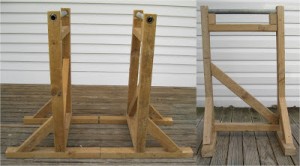 You could also use the backs of two sturdy chairs. Others use "walkers" that people who are not stable enough to walk use to get around! You could even use the surface of a washing machine or kitchen counter or other elevated surface.  Adjusting the handles on a suspension trainer should work as well!
Whatever you choose to work out with, bend forward while letting your arms guide you down while under control. Using your back and arms, come erect again.  This exercise should allow your arms to do many more "pushups" ("press ups") or "dips" than could otherwise be done because of the back involvement. At the same time, your lower back is getting the assistance of the arms. While this movement may not seem too taxing, done in sufficient number, it can quickly elevate the heart rate to gain or maintain the heart rate in one's "training range" (see note below).
To add difficulty to the move, it can be done "on the toes" throughout the movement or end in a calf raise. More or less weight can be shifted to the chest and arms if one feels those body parts are being cheated and more shifted to the back later. One should always be conscious of involving the lower back in this movement, however, to help the back muscles remain strong and enduring in their own right!
Combined with the "Squat Pull" or "Squat Row", "Good Morning Dips" may be the only two exercises needed for a complete "Longstrength" or "Panaerobic" workout… but we'll discuss more exercises soon!
Note: Training range is determined by this formula : [220 – (# of years)] * (50%-80% depending on relative fitness). A very fit 40 year old might seek to maintain a heart rate of 144 during an extended training period. That is derived from the formula of (220-40)*80%. See your physician for guidance in exercising and determining a proper "training rate" or "training range" for your particular condition!
Jogging Longstrength Style
In Dr. Schwartz' patent for "Strength Endurance Method"  he describes what became his "Pan-X" exercise apparatus. While he has a separate patent for that device, he mentions it in order to describe his strength endurance method.
He describes a number of exercises for his strength endurance method and one is a version of "jogging".
Why is it suitable for "longstrength"?
Here is an interesting passage from the patent filing that relates both to "jogging" with Dr. Schwartz' device and other exercises he envisioned using too.
Dr. Schwartz had previously added "Heavyhands" to walking, jogging and running to maximize the aerobic value of those exercises. In his development of "Longstrength" theory, he envisioned using the body's own weight to exercise both the upper and lower body in order to build not only aerobic capacity but muscles capable of exerting greater strength over longer than average times. Here is how that would have transformed "jogging" into a "Longstrength" exercise – by making it a "whole body" movement:
[The Pan-X device] used in "whole body" jogging movements in which the upper body is clearly a most active participant. "Press-ups" and "pull-ups" performed by the arms on the [cross bars of the device] add substantial upper torso work to these in-place ambulatory movements. Additional work may be included by lateral movements of the upper body (side-leans) and abduction/adduction movements of the thighs are options…. Thus, the goal of the method is to maximizethe "continuous strength" of a growing assessment of skeletal muscle groups, all within the framework of cardiovascular training. The measurable fitness levels achievable by this method cannot be duplicated by any combination of current conventional strategies, regardless of the complexity, size and overall expense of the equipment subserving those strategies. Further, those well trained by virtue of this method will find themselves able to enhance their performance at most conventional exercises and most forms of sport.
The nature of the additional strength made available by training with this method apparatus and its prescribed techniques is likely to be consistent with the development of "new" skeletal muscle mass which is structurally to be distinguished from that resulting from conventional strength training. It is believed that certain microscopic elements, i.e., intercellular capillaries and intracellular mitochondria will increase in number and density in skeletal muscles. In contrast, it is generally agreed that the distribution of such microscopic elements so crucial to continuous rhythmic work capacity are reduces or remain stable during prolonged conventional weight training.
In terms of agility, this method is employed to fuse strength and endurance and also makes for enhanced motor skill consistent with our general definitions of agility. This unique "whole body" mobility continues to improve along with additions of strength and endurance. Dance-like movements, compound movements, shifts [in position on the device], and sprints represent a few of the categories of movement choices that both require and add to the quality of agility that can be gained uniquely from this exercise.
In terms of pure strength, this method is apt to gain considerable strength and most of this will be of the continuous or "Longstrength" variety. This does not preclude training for a pure strength which can also be performed within the constraints of this method. Various pull-ups and press-ups during which the body's weight is shared very little make for this option.Pure leg strength may be added in the form of one legged squats performed [with the device], first using a slight arm assist, gradually utilizing the leg musculature alone. Abdominal strength may be acquired by a number of movements in which the upper body segment is flexed against resistance,or during movements which require the lower body segment to flex upward while the feet are held off the floor, either while working [at various positions on the device]. Again, these strength movements can either represent the user's total full strength training or be used as adjuncts to strength training of the conventional sort.
In terms of flexibility, this method makes possible a unique approach to the acquisition and maintenance of flexibility. Given the support of the body at both [various positions on the device], whole body flexibility can be attained in either the "static" or "dynamic" mode. The hands can control the force which is applied to any of a large series of stretching movements that also eventuate in increased ranges of motion at the joints (an essential ingredient in most definitions of flexibility)….
Jogging while supporting oneself with the arms is a whole exercise, which happens to include something that remotely resembles what runners do when they call what they doing. But the hang time is different when compared with conventional running. 120 steps/minute can be achieved with the arms supporting the body. This is impossible during an unsupported jog.
So Dr. Schwartz envisioned a mode of jogging or running that would end up training the whole body because the arms would be supporting the body during the exercise and be activated as they supported the running movement. Pressing up, pulling up, supporting the body's weight, etc. would strengthen the arms and the "core" while the legs were being actively exercised and aerobic capacity developed.
One of his main students John McKean never mentions this exercise. Dr. Schwartz himself sees it almost as a form of "active rest" in between more "tiring" exercises based on the above description. In any case, "whole body jogging" or even "dancing" is mentioned as one of the key elements in the development of "longstrength" and, if only for variety, practitioners may want to know how to do this exercise.
While only three prototypes of Dr. Schwartz' "Pan-X" apparatus were made, the exercise he describes can be mimicked with very good results on any suspension trainer suspended over even a small carpeted area and used in conjunction with "furniture sliders" compatible with carpet.
Here's a youtube video of the kind of exercise that could pass for "Jogging" for those interested in "Longstrength" instead of old fashioned "aerobics".
While you're using the carpet sliders, remember to try Dr. Schwartz' suggested "scissor movements", side to side bending, and different ways of supporting your body while sliding, jogging or "dancing".  It may turn out to be a lot more taxing than the "active rest" Dr. Schwartz seemed to envision!
Note: When he asserts that "intracellular mitochondria will increase" as a result of this exercise, he is laying a basis for the claims mentioned in Marty Gallagher's discussion of "Third Way Cardio" in "Purposeful Primitive" that describe so-called "super hybrid muscle" that have not only endurance but a higher general level of strength as well. As Gallagher noted, other trainers spoke of this possibility and sought to achieve it through adaptations to traditional training, but Schwartz did so with a physician and researcher's reserve and with his own unique methods (other methods tend to be based on more traditional weight training).