14 DAYS TO FITNESS!
Use Weighted Hands in or out of your own home for 14 days. 

 WE PROMISE RESULTS! You'll FEEL and LOOK stronger. 

Results YOU can actually SEE in a mirror and measure with a tape!

 There's no need to undress, no need for strenuous exercise, no need for expensive gym visits. 

Now build the body you've always wanted in Just minutes per day in the PRIVACY OF YOUR OWN HOME. Weighted Hands can start you on the way to a magnificent lean body! 

Yes, just thirty minutes a day for 14 days prepares your body for the massive change in your appearance about to take place.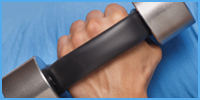 It's All In The Hands
All the research and workloads have been calculated by state-of-the-art human performance labs. For example, if you weigh 175 lbs. and you walk 30 minutes pumping 11 lbs. Weighted Hands to shoulder height at a rate of 100 pumps per minute, you're going to incinerate 600+ kilocalories. And your grip strength, your upper body, your arms and your chest are going to get conditioned like never before. You'll feel and look better too. And as you whiteness the changes in you, your confidence is going to shoot through the roof.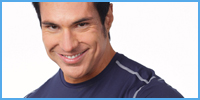 Instructional videos
Grab your Weighted Hands and watch these instructional videos to learn how to get the most out of your workout.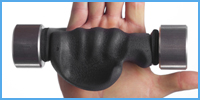 The Grip Without Slip
We've designed a grip made to fit YOUR hand. Waited Hands should never be confused with dumbbells. One look at our ergonomic design clearly sets Weighted Hands apart from such conventional weights. Our textured no-slip grip and the soft form fitting back-straps will provide you with maximum comfort over an extended period. They'll fit snugly onto your hands. They don't have to be gripped as tight so there is no chafing, no straining, no cramps, and no constriction. You're going to thank us after just one workout for how functional these grips feel compared to your old 1970s foam coated Heavyhands handles. Kiss wrist, elbow and joint pain goodbye when you switch to the Grip Without Slip. Call now to order your set today 1- 858-692-9461