14 DAYS TO FITNESS!
Use weighted hands in your own home for 14 days. 

 WE PROMISE RESULTS! You'll FEEL and LOOK stronger. 

Results YOU can actually SEE in a mirror and measure with a tape!

 There's no need to undress, no need for strenuous exercise, no need for expensive gym visits. 

Now build the body you've always wanted. Just minutes per day in the PRIVACY OF YOUR OWN HOME can start you on the way to a magnificent muscle packed body! 

Yes, just thirty minutes a day for 14 days prepares your body for the massive upsurge in muscle about to take place.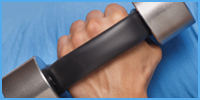 It's All In The Hands
here is no doubt that walking with Heavyhands weights over 10 lbs. in each hand is one of the easiest ways to burn calories and melt fat at an alarming rate. All the research and workloads have been calculated by state-of-the-art human performance labs. For example, if you weigh 175 lbs. and you walk only 30 minutes with the 11 lbs. Heavyhands weights shown in the image above, pumping them to shoulder height at a rate of 100 pumps per minute, you're going to incinerate 600+ kilocalories. And your grip strength is going to go through the roof.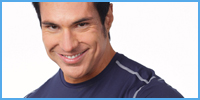 Instructional videos
Grab your Heavyhands and watch these instructional videos to learn how to get the most out of your workout.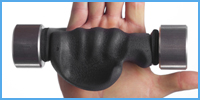 Grip Without Slip
We've designed an extended palm pad that really helps when you're doing overhead presses and flys. Having this extra material to push against during your workouts takes an enormous amount of pressure off the bone of your fingers and allows you to do more overhead work compared to pushing up on a soft foam bar. You're going to thank me after just one Heavyhands walking workout for how much more functional these grips feel to your hands compared to a foam coated bar. And you'll be surprised at how hard and fast you can go pumping your weights with these grips. Kiss your wrist and joint pain goodbye when you switch to the Ergo Grip Kit. They actually start to feel like an extension of your hand.